About us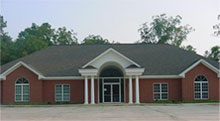 Founded in 1952, Gaunt Engineers, Inc. is the continuation of an organization that has provided civil engineering, environmental, and surveying services to the South Central Arkansas area for six decades. We are a local small business that takes pride in providing high quality and economical service. We have always taken care of our clients, and continue to make that our primary goal today. We have in-house capabilities for preparation of environmental assessments, preparation of applications for various State and Federal funding agencies, permitting, and for the design and construction observation of your projects.
Our Commitment
To provide our clients with the best possible service; delivered on time and within budget. Our role is from start to finish and often continues after the project is completed.
Past Projects
• Water distribution & treatment systems
• Sewage collection & treatment systems
• Streets & storm drainage systems
• Airports
• Solid waste collection & landfill design
• Recreational facilities
• Site development
Projects Available
Review a list of projects currently up for bid.